Chattaway stories
Glimpses of chattaway lives
Alans Story
My grandfather, who lived in Wales, was a baker and an alcoholic. When my father was 14 my grandfather put him to work in a local coal mine, then took his earnings each week and drank them. My father soon ran away from home and found his way to London. There he said he was 17 so he could join the Welsh Guards. He married my mother, whose parents were German immigrants, when he was really 18 (but officially 21). My mother had difficulty carrying a pregnancy to full term, so I was the only one of about 7 children to be born alive.

During WW2 my father served in the British Army in India and Egypt, earning several medals. After the war he took a job in Northern Rhodesia (now Zambia) and my mother and I moved there. After high school in Zambia I went to university in South Africa, 1800 miles (2900km) from home. Near the end of my third year my mother died, but my father kept it secret from me until after my final exam, in case it affected my marks.

After my mother's death my father closed our home in Zambia and visited relatives in Canada, where he fell in love with his brother's widow and married her. This left me as a foreign student in South Africa with no home country, so I applied for permanent residence in South Africa. It was denied because I had participated in the movement against apartheid, so instead of permission to stay, I was given three weeks to leave the country. This was devastating because now I had lost my family, friends, home country, and adopted country all in less than a year I stayed with my aunt in Reading, UK and applied to emigrate to Canada. I was accepted, and though I've lived and worked in many countries since then, I'm still based in Canada today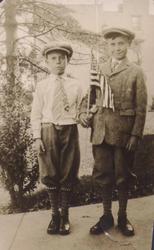 Was in Libya at the end of the 2nd WW driving a scout tank around the desert, his group befreinded a dog - but he drew the short straw and had to shoot it when they left camp.
Roland 2nd and Frankie Chattaway
Roland the 1st and 2nd were New York Police officers between approx 1900 and 1950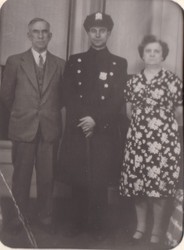 Lewis Carroll the childrens writer had a close friend gertrude chataway.
In the hunting of the snark, he uses each letter of her name
The following is the poem that opens The Hunting of the Snark. The first letter of each line spells out her name, and the first syllable of each stanza reproduces it:
INSCRIBED TO A DEAR CHILD:
IN MEMORY OF GOLDEN SUMMER HOURS AND WHISPERS OF A SUMMER SEA
Girt with a boyish garb for boyish task,
Eager she wields her spade: yet loves as well
Rest on a friendly knee, intent to ask
The tale he loves to tell.
Rude spirits of the seething outer strife,
Unmeet to read her pure and simple spright,
Deem, if you list, such hours a waste of life,
Empty of all delight!
Chat on, sweet Maid, and rescue from annoy
Hearts that by wiser talk are unbeguiled.
Ah, happy he who owns that tenderest joy,
The heart-love of a child!
Away, fond thoughts, and vex my soul no more!
Work claims my wakeful nights, my busy days-
Albeit bright memories of that sunlit shore
Yet haunt my dreaming gaze!
FRANK c 1920 s -
In the early hours of 1st march 1942 frank was on HMAS PERTH and together with USS HOUSON when they sailed into the fleet of Japanese warships in the sunda strait, south of Singapore.
A long battle ensued ships were sunk on both sides, but eventually the perth and Houston were out of ammunition and finally sunk.
Only half the 680 on board PERTH survived
Frank survived and spent the next 3 years in a Japanese prison camps in Java Singapore Burma and finally Japan before returning to Australia, to resume his life as a schoolteacher
Roland the 2nd with mother, Harriet (hattie)
Do you have interesting stories to put here about your Chattaways ?? please let me know -thanks